Village welcomes a 'living Lei Feng' from Luxembourg
Share - WeChat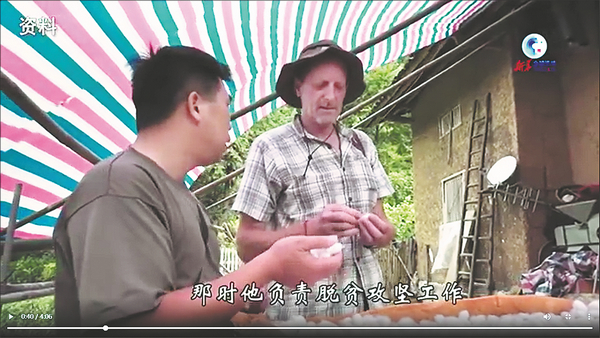 NANNING — For generations, the longest distance that many villagers in Zhadong, South China's Guangxi Zhuang autonomous region, could fathom was that of the journey between their village and Nanning, the regional capital.
In 2018, the arrival of a man from Luxembourg expanded their horizons across continents.
"The first time I came to Zhadong village, I was overwhelmed by its natural beauty. The adobe homes fit perfectly with the green environment," recalls Hansen Nico Rene, a 63-year-old retired policeman.
"But when we entered the houses, we found people were poor. There was a fireplace, a table, and some chairs. The bathroom, if there was one, was in the pigsty. There was very little to suggest that they were living in the second millennium."
The village Hansen visited is in a remote mountainous area in Guangxi's Hechi city. Tucked away in the mountains, Zhadong village was known not only for its spectacular karst landscape but also its grinding poverty.
Before coming to Zhadong, Hansen had settled in downtown Hechi for six years. What brought the retiree to Zhadong was a notice for recruiting volunteers to aid the poverty alleviation campaign in March 2018.
In 2015, of some 600 residents in the village, over half lived under the national poverty line, meaning their per capita annual income was lower than 2,300 yuan ($331.7) at 2010 constant values, or $2.3 in terms of purchasing power parity per person a day. At the time of Hansen's first visit, there were still some parts of the village that were not accessible by road.
Villager Bi Yonghong, 41, remembers the first time he saw Hansen. "People flocked to see him out of curiosity. They took pictures of him with their phones, as it was the first time we had seen a foreigner in our village."
During that visit, Hansen met Xie Wanju, then the first Party secretary of Zhadong. It was a rainy day, but dozens of people were busy in the fields working with cables, bamboo, and iron posts, so Hansen went to see what was going on.
Xie introduced himself as the first Party secretary and explained that they were preparing to grow passion fruit to help people out of poverty.
"We will never forget the first moment (we met) because this changed my whole life. I met the first Party secretary, and he was working for the government for poverty alleviation. That was amazing. I said if you need help, I have time," Hansen recounts. Since then, he became known by a new identity — the village's first Party secretary's assistant.
Across the hills and rivers, the duo worked closely, day and night, to explore a path toward prosperity for the village residents. They visited each household, asking about their income and taking careful notes. "I know everyone in the village," Hansen says.
"We first thought he was a tourist, as he was carrying a camera with him," Bi says. "But later, we learned he was a volunteer. He is a warmhearted and hardworking man, always giving a hand to the villagers on their farms when he sees them. When he visited my home, he helped us shuck the corn, pick mulberry leaves from the fields, and feed our silkworms."
After the visits, Hansen suggested that the village use the land behind it to build a farm, and he also participated in the construction work himself.
"It was a jungle. We brought electricity and water, and then we built a small farm. Now there are nearly 2,000 pigs and 200 cows. It is still growing," Hansen says.
Today, this farm brings over 100,000 yuan in revenue to the villagers each year.
Under Hansen's assistance, Xie, with the village's officials and other poverty alleviation workers, developed featured industries, including cattle and sheep breeding and fruit planting.
Their efforts paid off. By November 2020, the whole of Zhadong village had successfully eradicated poverty. Now local authorities are leading the villagers on a new journey to rural vitalization.
Hansen is quite satisfied with his work in the village. "Now everything has changed. The adobe homes have gone. Today everyone lives in new houses with a separate kitchen, living room, bathroom, and bedrooms. There is also electricity and internet connection."
Hansen returned to the city in May 2021 after finishing his voluntary work. However, he maintains a deep attachment to Zhadong, and often goes back to the village to see his old friends and promote tourism by sharing pictures of local landscapes and cultural events on social media with his friends in Europe and beyond.
"I was worried that he came just for fun, but it turned out that he wanted to lend a hand," says Xie, who has now returned to his original work as an official at a government agency in Hechi.
"He went up and down the mountains with me without any complaint. In him, I see the spirit of Lei Feng — enthusiastic about public welfare and always ready to help others," Xie adds.
"Volunteerism in China is amazing. That, in my view, is also a core spirit of the Party. The world is changing, and the mentality of society is changing. I believe the 'Lei Feng spirit' maybe needs more promotion," Hansen says.
Lei, an ordinary young Chinese soldier in the 1960s, is a household name in China known for his devotion to duty. He died in an accident at the age of 22 in 1962. In his diary, compiled and published posthumously, Lei likened himself to a small yet indispensable "screw "inside a machine and vowed to "never rust" and serve the people wholeheartedly.
In 1963, Chairman Mao Zedong called on the nation to learn from Lei, and March 5 has been designated as "Lei Feng Day". Since then, people who volunteer to help others and devote themselves to society selflessly and altruistically are lauded by Chinese people as "living Lei Fengs".
For villagers in Zhadong, the pantheon of "living Lei Fengs" now includes a foreign face.
Most Popular