A growing trend in urban farming
Share - WeChat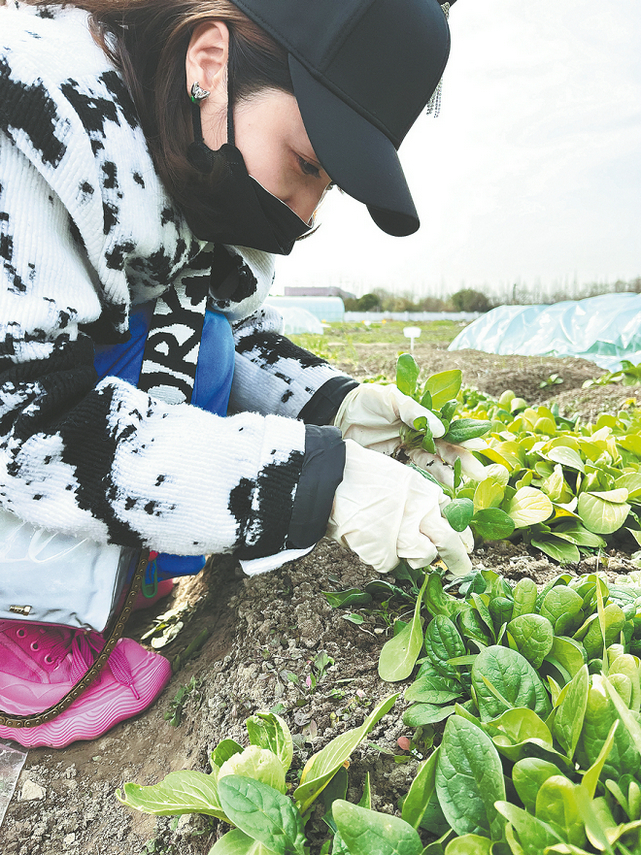 Eager for a quick escape from hectic city life, more and more people are picking up hoes and shovels to grow their own vegetables in the countryside, He Qi reports.
Shanghai is known as a highly urbanized megacity that is home to futuristic skyscrapers, but behind this modern facade lies a growing movement that hearkens back to its past.
In recent years, shared vegetable plots have been sprouting in the city's suburban districts of Minhang, Baoshan and Qingpu as more white-collar workers turn to farming to unwind and escape the pressures of city life.
Among these individuals is Yang Rui, who, on weekends, drives his family from their home in downtown Shanghai to the All-Happy City, a shared ecological farm in Minhang, where he has rented a 20-square-meter vegetable plot for 1,600 yuan ($233.6) per year.
The family tends radish, lettuce and other vegetables they have planted.
When they aren't around during the week, professionals take over the reins and perform whatever chores are needed.
This farm has about 200 members, some of whom even rear chickens and ducks that roam in the fields.
Founded by Chen Yougui in October, the shared farm spans about 13.33 hectares and comes with shared vegetable plots, barbecue pits and leisure areas.
The rental fees of farming plots can range from 199 yuan for a 5-square-meter plot for six months to more than 10,000 yuan, depending on the size and services provided.
According to Chen, the monitoring system covering the entire farmland allows members to view their vegetables and fields remotely through their phones.
Members can also arrange for the farm manager to send the ripe fruit and vegetables to their homes. At present, more than 50 types of vegetables and fruits are planted at the farm.
The farm also leverages technology to ensure that the chickens and ducks reared by customers don't go missing or end up in someone else's plot — each animal comes with its own QR code.
Those looking to be fully involved in the growing of their crops — mostly from the older generations — can choose the self-planting package, while young customers, like Yang, usually opt for the package that comes with additional services by the farm's 14 workers.
The watering of plants and professional farming guidance is provided for both options.
Chen notes that many of his customers are parents who rent plots primarily to teach their kids about science and nature and how farming works.
At present, 30 to 40 percent of Chen's farm area is used as a shared vegetable garden, while about 40 percent is a public area for picking fruit and vegetables. The remainder is used to host leisure activities.