Beijing's ancient Central Axis embracing digitization
Share - WeChat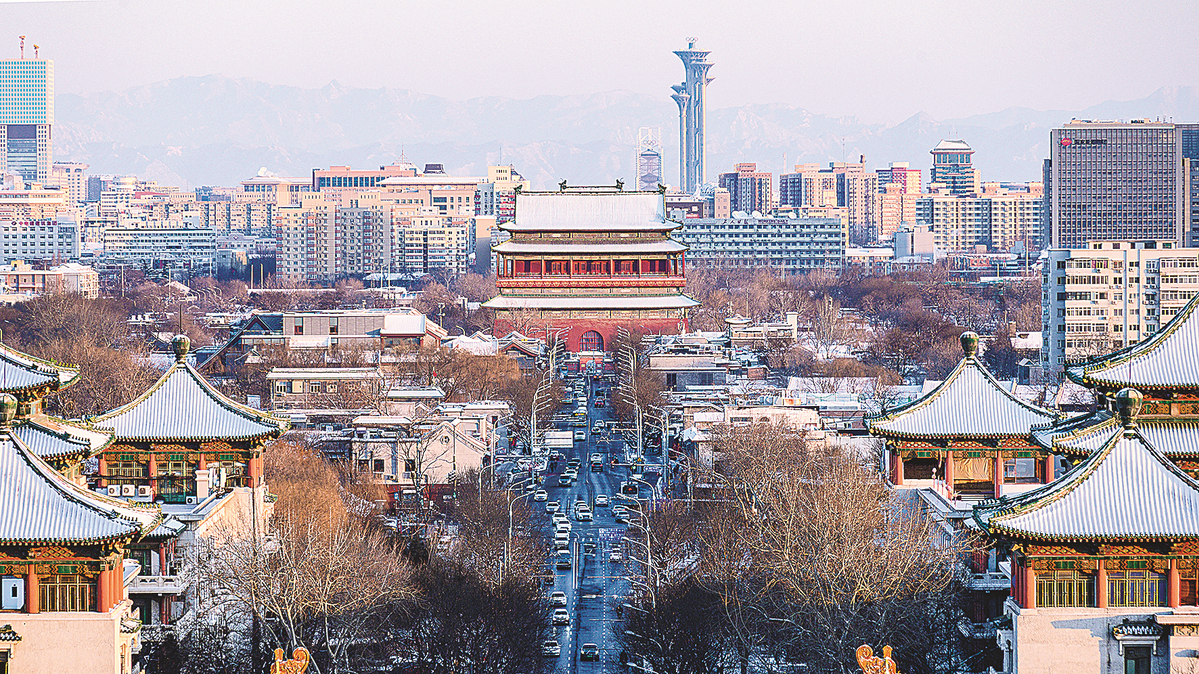 Wandering on the Wanning Bridge along the Beijing Central Axis and opening a mobile app, tourists can see a lovable cartoon beast pop up on the screen, showing them around the ancient bustling street market, introducing kite making techniques, and exploring the production process of Beijing-style cheongsam (a traditional dress).
The app, by overlaying virtual digital content on top of the real space, digitally reproduces the historical scene of the Central Axis and the disappeared cultural relics buildings, providing the public with an immersive augmented reality experience.
First created in the Yuan Dynasty (1271-1368), the Beijing Central Axis, or Zhongzhouxian, stretches 7.8 kilometers between the Yongding Gate in the south of the city and the Drum Tower and Bell Tower in the north. Most of the major old-city buildings of Beijing sit along this axis.
In recent years, the ancient Central Axis has become increasingly appealing thanks to digital technologies.
At a digital Central Axis-themed interactive exhibition, visitors were enjoying the Central Axis from south to north from a bird's eye view, appreciating the antique beauty of cultural relics buildings and experiencing the different seasons in the ancient city.
"Digital products can show the unique charm of the Central Axis by breaking through the boundaries of time and space," said Tao Yingchun, one of the exhibition organizers.
Building a digital Central Axis calls for technologies such as digital surveying, mapping and 3D modeling.
Liu Hong, Party secretary of the Beijing Academy of Surveying and Mapping, said that in 2020, the academy organized a team of nearly 200 people to conduct ultra-fine surveying, mapping and 3D modeling of various heritage elements of the Central Axis.
The program has provided a complete set of spatial databases for the monitoring, management, protection and utilization of the heritage elements of the Central Axis.
Sitting along the Central Axis, several ancient cultural buildings have been renovated with digital technologies.
"Intelligent construction technologies, such as 3D scanning and panoramic imaging, have been applied in the restoration of ancient buildings," said Li Wanbo, head of the restoration team.
"These technologies can help construction workers better formulate cultural relics repair plans in a more scientific manner," Li added.
The restoration process has also been digitally recorded in the form of a digital file, providing data for follow-up monitoring and preventive protection.
Chen Mingjie, director of the Beijing Municipal Cultural Heritage Bureau, said that Beijing's Central Axis embodies traditional Chinese philosophy, such as respect for nature and appreciation of the harmonious co-existence of man and nature.
"Such digital technologies can be used to showcase the value of the time-honoured Central Axis in an ingenious and fashionable manner," Chen added.
Most Popular