Journey of discovery begins
Share - WeChat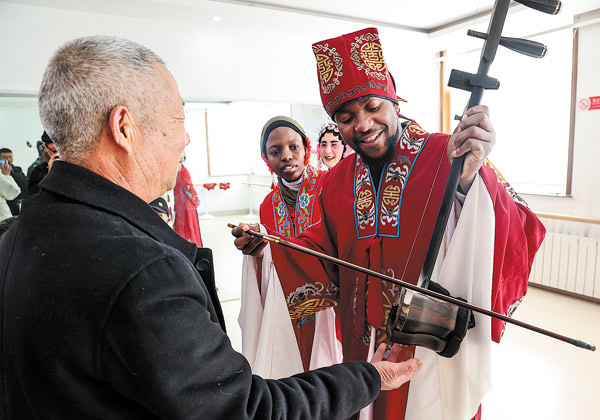 TAIYUAN — When Alansi Mohammed saw the stretching terrain of the Loess Plateau through the porthole again, he was so excited that his heart almost "jumped out".
"It has been three years. I finally made it back to my second hometown," he says.
The Yemeni student is majoring in e-commerce at Shanxi University in Taiyuan city, capital of North China's Shanxi province. He had returned home for winter vacation in January 2020.
China downgraded its management of COVID-19 and facilitated the smooth and orderly cross-border travel of Chinese and foreign nationals in early January. As the new semester approaches, many international students are flocking back to China to restart campus life with excitement and hope.
Data from China's Ministry of Education showed that nearly 500,000 students from 196 countries and regions studied in China in 2018. For the past three years, those who had returned to their home countries had to take classes online to continue their studies.
"After I was informed that I could come back, the school provided meticulous assistance, while the entry procedures were easy, and so the whole trip was smooth," says Alansi Mohammed, who believed China's adjustment of entry-exit policies could greatly promote the resumption of global personnel exchanges.
Although Tran Mai Huong is set to graduate from the International Business School of Zhejiang University in East China's Zhejiang province in June, the Vietnamese student has never been to China. She plans to visit China to prepare for her graduation, and also to learn as much as possible about Chinese customs and culture.
To welcome the large number of returning international students, many universities have started to provide relevant services.
Peking University offered visa agency services during the winter vacation, including visa application acceptance, collecting passports with visas already issued, consulting and answering questions. In addition, the university has announced the enrollment prospectus for the Chinese Language Summer School this year, which is to offer a variety of offline courses.
Most Popular